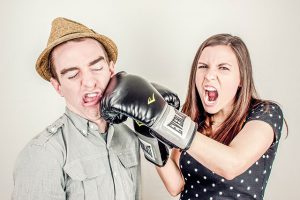 Say what?
I hear your pain. LOVE your enemy? Maybe you are thinking of someone that you don't even LIKE, let alone LOVE them. Enemy? Maybe not technically, but if it keeps you from your closest walk with God, then, yes, not loving them makes them an enemy of your soul (mind/will/emotion) peace. So what is a person to do?
In the flesh, you are helpless to obey
In the flesh, insincerity is evident and can even lead to an angry episode. Loving your enemy requires such an unnatural response that obeying it proves who belongs to God. It proves who is yielded to the Spirit's control.
So, what does God have to say about it?
"But I say to you, love your enemies, and pray for those who persecute you, in order that you may be sons of your Father who is in heaven… if you love those who love you, what reward have you? Do not even the tax-gatherers do the same?"
(Matthew 5:44, 45a, 46 NAS)
The tax gatherers worked for Rome and were hated by the general population. (Times haven't changed much there, have they?)
Jesus is serious about His "challenge" to His followers
Love your enemies
Pray for your enemies
Do good for them whenever you have opportunity
Desire their highest good
Real life example
I STILL remember a Billy Graham evangelistic movie I saw at my church many years ago. I was a brand new Christian. I was so hungry for MORE. I had so much to learn! (Still do, as a matter of fact!) The movie has continued to have a profound impact on me. I don't remember the name but it was about a Chinese man that decided to live his life by one verse: "Greater love has no one than this, than to lay down one's life for his friends." (John 15:13 NKJV) Jesus was the ultimate example of this verse. A sacrificial love so pure.
If I remember correctly, the Christian Chinese man witnessed the Gospel message to his friends, and they mocked him. They were not interested. Yet, he persisted in trying to live by that verse daily.
He remembered the verse
So, one day he was on a runaway train. The train kept gaining speed. There was no doubt that everyone was going to die. He prayed. Then…he threw his body onto the tracks. The train skidded to a stop. By his death, he saved the lives of everyone on the train. He literally laid down his life for his friends. AND for all the strangers, too. Jesus had been His example. The man counted the cost and did the only thing he knew to do.
More real life examples
I'm currently reading a book from The Voice of the Martyrs: "Hearts of Fire. Eight Women in the Underground Church and Their Stories of Costly Faith." (Forward by Gracia Burnham) This book is the story of eight women that loved Jesus. They counted the cost and stayed the course. And they loved their enemies. For Jesus' sake. For the Gospel's sake. God gave them peace. And they prayed for their enemies. They counted the cost. They followed Jesus.
The other side of the coin
YES!!! We ARE admonished to love our enemies, but…here's where I think we sometimes go wrong and get confused. Treating everyone with kindness and respect is part of love. BUT SOMETIMES "the highest good means setting limits on harmful behavior."
– Dennis Fisher
What does it mean to set limits?
I think it is like when someone that is supposed to love you, to protect you, to live in harmony with you, is NOT. When your very soul is being destroyed by another. I don't believe that Dennis Fisher was referring to everyday normal irritations; but rather situations like: if a father is beating his child, if a husband is sleeping around, if a wife is deep into drugs, if an adult child or fellow missionary is repeatedly publicly and privately disobedient, dishonoring & disrespectful. Then, maybe an "intervention" is called for. But, then, after doing all you know to do, setting limits might actually mean leaving that situation, at least temporarily. Sometimes it means walking away from the relationship. That might actually be greater love than staying, which often gives the signal that you approve and condone the behavior, which can even cause it to heighten in intensity.
Love is complicated
ONLY GOD can direct your path in each situation according to His will for you personally. That is why prayer is your life-line. Only He can fill the God sized vacuum love hole in you. No matter which "side of the coin" you are living in now. No matter what is happening in your life, He says, "Call to me, and I will answer you, and show you great & mighty things, which you do not know." (Jeremiah 33:3 NKJV)
"Lord, thank you that your presence, your purposes, and your power are available to me every moment of every day as I call out out you. I'm calling now. Today, please help me with…" – Kim Avery
You can trust Him, no matter what!
Thank you!
Until next time,