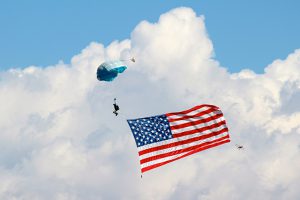 In the United States of America, the 4th of July is set aside to celebrate our Freedom from religious oppression. It's a wonderful yearly reminder of the reason our nation's founders set sail and arrived on these shores so many years ago. Our American Flag is the symbol of our country. Of our freedom. Of our independence. We were finally set free to live and to be who we believed God had called us to be as a nation. The Bible was our textbook; and it was often the only book many homes possessed.
Cause to celebrate
Many people have sacrificed wealth and life to make it possible for us to have the amazing lives we live. Compared to the rest of the world, even our poorest would be considered well off by the people in other countries. Therefore, gratitude is natural and appropriate. What will we do to maintain that freedom in the land of the free and the home of the brave? Our nation is a type of gift given to us by those patriots and should never be taken for granted.
Individuals
Someone I love expressed on social media this week that she did not feel worth anything. The sad thing is that she is not alone in wondering that. As wonderful as it is to live in this country, we need more. We need Jesus. He loves each and every person individually. Sometimes we forget that very basic fact. Jesus loves you. Jesus loves me. This I know. Because…The Bible tells me so! When Jesus is all you have…that is when you discover that Jesus is truly all you need! I know that from own experience!
Taking the plunge
Take a peek again at the graphic on this post. It reminds me that…Sometimes walking away from your old life and into a new one as a follower of Jesus can feel like the guy hanging in mid-air in the picture. That is often the feeling for each person THIS side of the decision. But on the OTHER side of the decision, you are FREE and safe and aware of your worth in God's eyes. He adores you!
John 8:31b-32 (NAS)
"If you abide in My Word, then you are truly disciples of Mine; and you shall know the truth and the truth shall make you free." Freedom. Everyone wants freedom. But there is a better freedom than just being physically free. Being spiritually free is for eternity! But it takes a decision on your part. Some go to church for years and are never set free because they never DECIDED to follow Jesus. It is that simple. Not easy. Because then there are daily and hourly decisions to make "What would Jesus do?" But it is simple…meaning uncomplicated…to find your way into being a Follower of Jesus. Early believers were called "Followers of the Way". A whole new way!
Independence Day
July 4th. Independence Day. The day we began afresh as a nation of individual states working for the common good of the individual states and for the country as a whole. I am grateful for all the sacrifice that was necessary for that to happen. The giving of home, land, family, status, money, and even life itself. For you. For me. For us to be FREE. That is what that new United States of America provided for us. So, don't just have hot dogs and watch a parade and fireworks. All of that is great and fun! But talk together about WHAT and WHY we are celebrating this day! And remember the patriots that made it possible. Never forget! And don't let this generation pass away without sharing the reason with the next generation.
A different kind of FREEDOM
And, talk to each other about the reason we were each created. To glorify God and enjoy Him forever. Don't forget to share that with the next generation and with each other. As you celebrate, remind each other that believing and following Jesus provides a different kind of Freedom. With Jesus, we are not just Free. We are Free Indeed! Forever His. Is that a reality for you? If not, yet…then what's stopping you?
Let the adventure begin!
Happy Independence Day to you! Click the new "Let's Connect" button. Choose to be brave. It's an easy way to contact me.
Leave a comment. Or share this with a friend. Or set up a *free* short call for you to get your questions answered. Let's Connect! Be brave!
Just do it!
Until next time,
God bless you bunches!


Thanks for all you do!
Awaiting His shout,




The MomCourager™