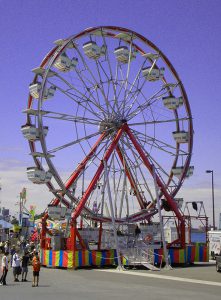 They were here for almost a week. Each has a story. Each has a job to do!  Each has a soul that God wants to save!
It is HOT outside
And that is where they work. Outside. They work all night to set up. Then endure impatient and rude people all day for almost a week and then while I was sleeping, they work all night to break it all down. And pack it up. And leave town. They are the Carnival population.
They have a job to do
They try hard to entice you to come and try their game. Or buy their food or drink. They call to you as you walk by. Trying to tempt you to test your skill or endurance. Or go on one of the rides like the bumper cars, ferris wheel, or the merry-go-round. It is a really, really hard job! Some just cannot get anything else…for various reasons. And yet many of them actually do LOVE what they are doing.
They are like their own country
I like to go to visit and get to know them (when it is their un-busy time of day). I want them to know they MATTER. That what they have to say is important. I have learned a lot from these friends of the Carnival population. In the first year, they showed me my heart. My pride. My arrogance. (Not on purpose. Actually, it was GOD who showed me those things about myself.) So the next year, I went with fresh eyes.
The Carnival population is a roving mission field
They have their own "language" and habits and favorite foods. Their own uniform. They are family. Traveling together. So I listen now. And learn. And *I* am the one who is blessed. Who would have guessed that the funny man without any teeth would quote for me large passages of Scripture. WOW! I LOVED it! He glowed as He spoke the words of His Master, Jesus! The population is often different from year to year, but that makes it all the more challenging and all the more interesting.
Once a missionary, always a missionary
This is a delightful time for me. The seekers come to our town. Only a block away. Most likely they don't know they are seeking. But maybe, just maybe I have planted a seed or two that someone else will water and that God will bring the increase. Because they matter to Him, so they matter to me. Sometimes I pray with them. Sometimes I just listen to their story. Sometimes we just share a funny story. And we laugh a lot!
No different
It's no different than when I was on the foreign mission field. Except they come to my town rather than me going to theirs. I still make the same mistakes. I still have to learn their "foreign" language. I still have to learn to interpret body language correctly. I still have to learn to like their cuisine. I still have to overcome some natural fears.
And I still have to learn to see them through God's eyes. Each has a story. Each has needs. Each has a God-sized hole in them that only God can fill. He has already filled some and some are still seeking…
Once a year over the Independence Day holiday
They come and stay about a week. And. Then. They are gone! Just like that! They pack up and leave in the middle of the night. And although I am glad that the mess, commotion and noise are gone, I miss them. They have taught me a lot about survival and laughter in the midst of hardship. About making wherever you are and whoever you are with, FAMILY! Because we are all in this together!
Maranatha! Come Lord Jesus!
Until next time,
God bless you bunches!


Thanks for all you do!
Awaiting His shout,




The MomCourager™